Bicycle Bandit: Ride to Redemption
The true story of a man, who after discovering he has cancer, turns himself into the "Bicycle Bandit" bank robber.
"I'm standing in a brightly lit 6×8 foot filthy county jail cell, stark naked, elbows in my hands, freezing, nothing but skin and bones. Cancer and the subsequent treatments for the disease have left me but a shell of myself. They call this place suicide-watch. I call it hell!

It's no wonder they think I'm crazy. My federal and state charges read like a grocery list of what not to do with your life: bank robbery, escape, reckless endangerment, malicious destruction, assault, use of a firearm in the commission of a crime. The Bicycle Bandit tag comes from the feds. They came up with that name when they found out I jumped on a bicycle and rode away after I robbed a bank. Bad name. Makes me look like I stole bicycles for a living. My intentions were to leave my family financially secure should cancer take my life. In this business, intentions don't matter."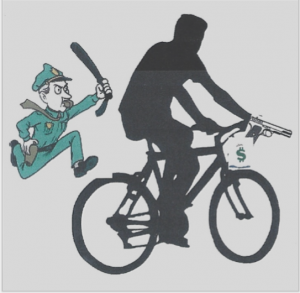 Bicycle Bandit: Ride to Redemption, is a personal growth story that features one man's journey in and out of crime. Early childhood adventures of making a quick dollar on the streets (to escape his poverty) formed a mindset that after going straight for twenty years, seems unbreakable. A perfect example of what happens when a child teaches himself how to become a man. Living under the dire circumstances of prison life he is determined to do what it takes to change that mentality once and for all. His life after prison will depend on it. Bicycle Bandit: Ride to Redemption, from childhood to adulthood and beyond, is a compelling human drama with a powerful underlying social message. 
SJ White
Don't forget to SUBSCRIBE to our list for the latest updates.